[2018] Finding "REAL ME" Through Dance - Jeong-min Kim, a dancer of the Hagen Ballett (ENG)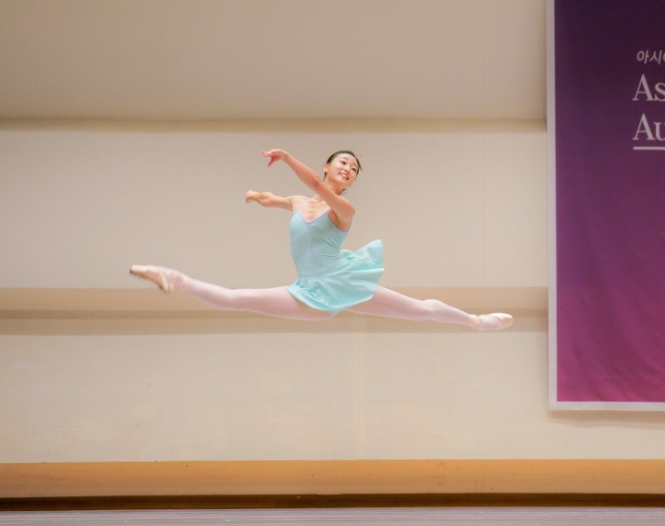 Jeong Min Kim at the 2018' Asia Dance Audition
This interview was conducted in October 2019
INTERVIEW
Dance Panner (DP): Hello, Jeong-min. It's already been a year since you received the good news from Asia Dance Audition started working in Germany. How did you feel when we first tell you about your successful audition results back in 2018?
Jeong-min Kim (JK): I had a hunch that my life was going to become much more exciting than I dared to imagine, and was completely ecstatic about it!
DP: Was there any particular reason you wanted to work abroad?
JK: I've always had this dream of living abroad ever since I was young, and I also wanted to experience dancing with dancers from different countries. Also, I guess the "Dora the Explorer" in me played a part in this too. (!!)
DP: What did you prepare after you decided that you wanted to pursue your professional career overseas?
JK: First of all, I looked for any open auditions spots and also tried to figure out ways to save as much time and money as possible. In the midst of me trying to do it all on my own, I found out about the Asia Dance Audition and started preparing for that instead.
DP: You said that you personally looked for auditions and applied for them. What was the hardest part about that process?
JK: The most difficult part was to gather information. I didn't know how and where to look up information about dance companies and auditions. I was really lost.
Even after I've successfully secured an audition spot, I had to create a resume, which was also beyond my abilities.
I really wanted to impress the directors, but I don't know how to fill in the blanks on my resume. I couldn't really ask for help too because a dancer's resume is different from a usual resume filled with exam results, language scores… and such.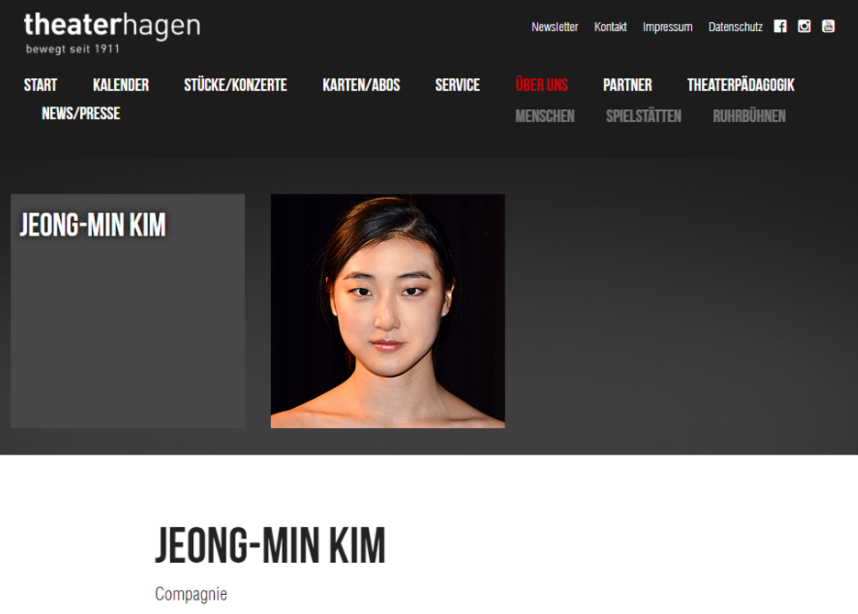 Kim Jeong-min's personal profile page on the Hagen Ballet website. (https://bit.ly/397E123)
DP: What do you think to lead you to pass the Asia Dance Audition with successful results?
JK: Since it was held in my home country, Korea, I felt relatively comfortable and was able to perform well.
As a Korean dancer, I think this is the biggest advantage of Asia Dance Audition.
DP: While we're on this topic, congratulations once again! Can you tell us more about your company, Hagen Ballett?
JK: Hagen Ballett is a ballet-based modern dance company based in Germany.
I think the new director of this season is a choreographer who pursues more modern movements compared to the previous director.
I was really excited because I've been wanting to venture out of classical ballet for a while now.
Because each dancer is treated as a soloist, there is mutual respect within each other, and it was good to have an environment where each dancer could really showcase his or her personality and character.
DP: How's life at the company in Hagen city?
JK: Hagen is not a big city in Germany. But I'm very satisfied with the location and facilities of the theatre.
The surrounding cities are so attractive, and I often go to the suburbs with my colleagues on holidays. The director and my colleagues are all very friendly and kind, and I've been adapting well thanks to them.
In terms of personal life, I'm living by myself because I got an apartment. I'm doing well with the money I earn from the company.
I've also become close with my neighbours, and I often visit the local peoples' houses to share food and enjoy our daily lives together.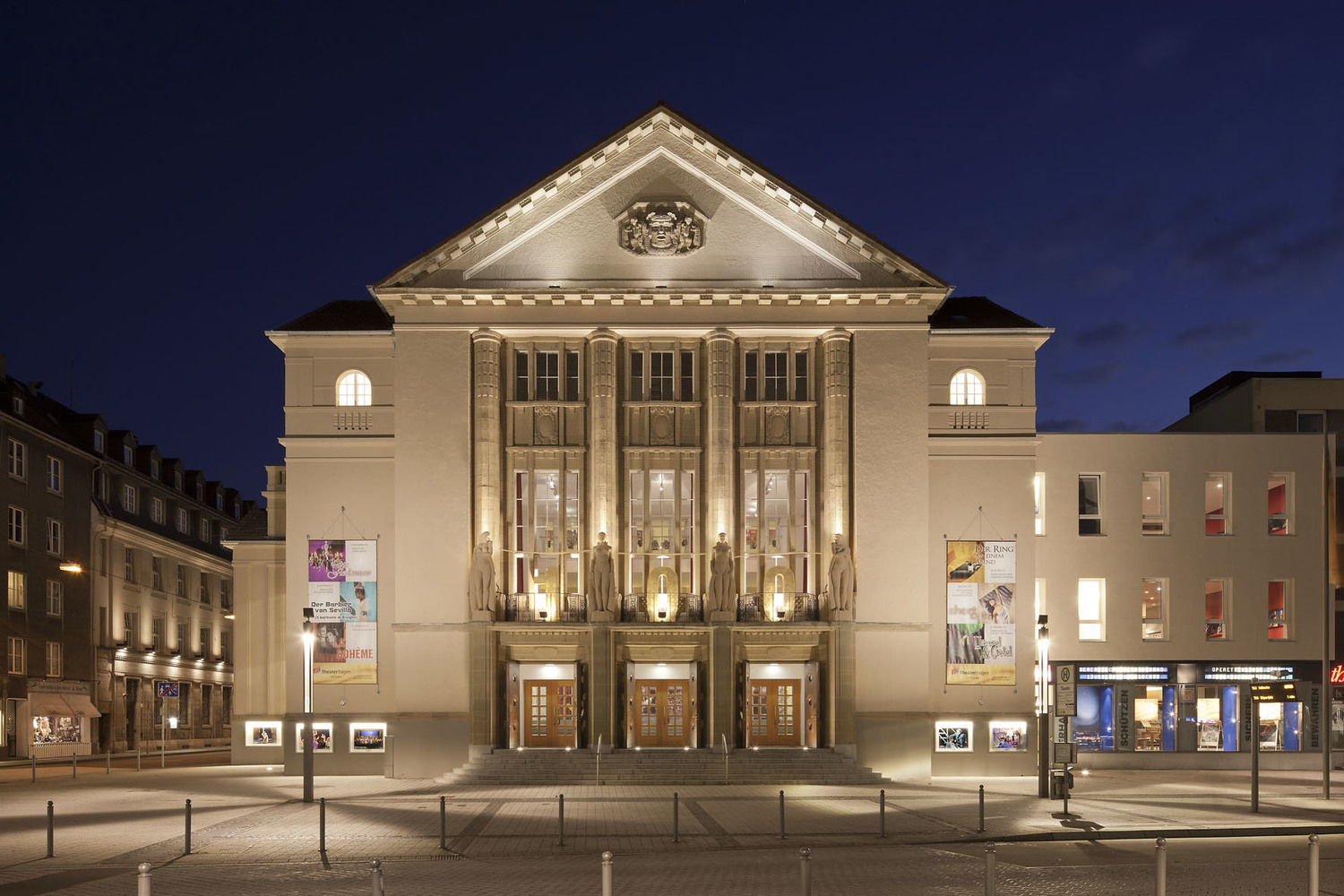 The night view of the Theater Hagen
DP: What do you think are the advantages of working in an overseas dance company?
JK: I think one of the greatest is being able to work with dancers from all over the world and learn from their diverse backgrounds.
I think part of the reason might be that I'm in a completely different country and culture, but I personally think that back in Korea, they would require us all to be the same and not stand out.
But since I came here, I noticed that people sought to create a stage where they could really develop their individuality and really vent out their feelings. Seeing that really took my breath away.

Jeong-min is having a good time with his ballet colleagues. (photo from Jeong-min)
DP: Do you have any tips for overseas life as a foreigner?
JK: One important tip is to always be thorough! I think we need to make power-saving a part of our daily lives.
In addition to saving electricity, you could save heater costs by wearing warm clothes in the winter. The energy costs were much higher than I expected (in Korea).
DP: Jeong Min, what has changed the most while living abroad and working in an overseas company?
JK: Compared to when I was in Korea, I had more time to take care and manage myself.
DP: What plans do you have as a dancer in the future?
JM: For the time being, my plan is to dance as much as possible here at Ballet Hagen!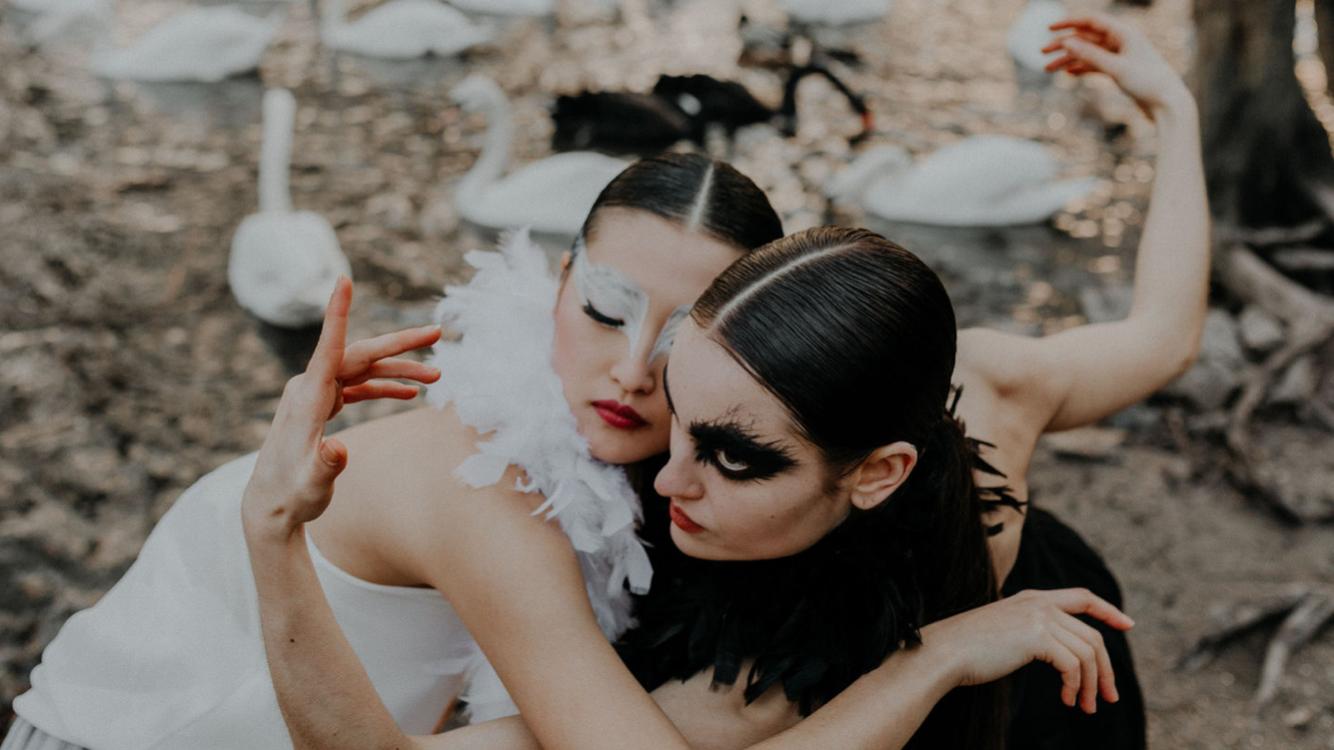 Photo : Paasmuehle | Hage Ballett, "SCHWANENSEE"
DP: Was Dance Planner helpful on your journey of working at an overseas company?
JK: I think they opened up the door to reach out to my dream life. It was very helpful.
DP: Would you recommend Dance Planner to the dancers around you?
JK: Of course. I've already made a lot of recommendations. :)
If you are hesitating about Dance Planner, I'd like to tell you to just go ahead and make the call.
Nobody knows what tomorrow will bring. And like they say, "Only the ones who dare to challenge will be lead to success"!
DP: Jeong Min~ Thank you so much for accepting this interview despite being so busy in Germany:)
We will continue to cheer you on and we hope that you dance with Ballet Hagen for a long time! Take care of yourself~!
JK: Yes, thank you very much :D
Let's wrap up the interview with Ballet Hagen's "SCHWANENSEE".
Choreography. Marguerite Donlon | Music. Peter Tschaikowsky u.a. | For more info