Notice2021/22 season Quorum Ballet Online Audition for a Male Dancer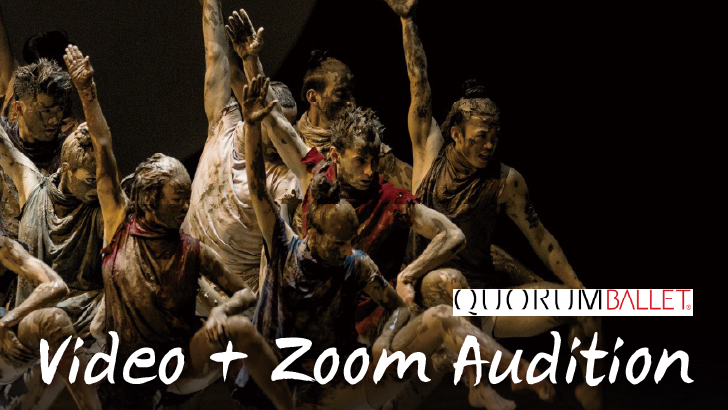 2021/22 season Quorum Ballet Online Audition for Male Dancers
- Worldwide Online Open Audition -
■ Overview ― Download the PDF
If you are connected via mobile, it is much easier to read the above PDF.
Quorum Ballet

Quorum Ballet from Lisbon, Portugal, directed and founded by Daniel Cardoso, will be holding an audition for Male Dancers with strong contemporary and ballet techniques.

Artistic director: Daniel Cardoso

Participant

Male contemporary dancers

Schedule

Registration

Until 1st June

Audition

6th June, 8 am or 9 am (Portugal time, GMT+1)

How to register & fees

1/ How to register

Register through Google Form (LINK/ Google log-in required) - Submit resume, full-body shot, video link




2/ Audition fee

80 Euro: Paypal to hyejun.park@danceplanner.net

★ Only for dancers who have been selected to participate in the 2nd Round.

This audition fee is collected by Dance Planner as a fee to organize and host Quorum Ballet's online audition.

This will help us make sure the audition is smooth-running and let every dancer be judged fairly.

Audition details

Process

Details

1st round

Material screening

a. Material screening

Screening resumes, photos, videos




Selected dancers will receive the Zoom link for the 2nd Round.

Audition Orientation (28th May)

Prior to the audition, Dance Planner will conduct an audition orientation so that each dancer would be clear on how to navigate Zoom during the audition.

- Audition environment check: Audio, camera angle, video quality, Internet environment, etc...

- Guide to audition progress

※

All dancers who passed the 1st Round must pay the audition fees for the 2nd Round to confirm their spot.

※ In the 2nd Round, NO CUTS will be made, except for the interview, which will only be for selected dancers.




b. Attendance

Time : 8

:40-9:00 (GMT+1)
Check internet connection, sound and camera condition


2nd round

ZOOM Audition

(6th June)

c. Ballet class

Time : 9:00-09:45 (GMT+1)
Conducted by Quorum Ballet's Company Master through Zoom

d. Company repertoire

Time : 09:50-10:50 (GMT+1)

Video will be provided prior - 29th May

e. Improvisation

Time : 11:00-11:30 (GMT+1)
Music/theme is free of choice

f. Interview

Time : 11:30-12:30 (GMT+1)
Only for selected dancers

※ Recording for 2nd Round (Repertoire and Improvisation)

Record only during your turn - All processes on ZOOM (2nd Round) will be recorded, but to ensure the fairness of the audition, all participants will use another extra device to record their audition process and upload it on Youtube.

Then, the participants will send in the video link after the audition to: info@danceplanner.net

※ ZOOM audition outfit regulation

Tight-fitting top, tights

Other details

After completing the registration, participants will receive the ZOOM link through email

Contract start date: September 2021.

Dancers will be touring with Quorum Ballet nationally and internationally.
* Details on this page are subject to change by the organizer.
■Photo regulation
| | |
| --- | --- |
| | Way to submit |
| Headshot photo 1ea | Should be attached to the resume. |
| Full-body shot photo | Attach photo files to the online application form. |
■Resume
File type: .pdf or .docx



Required information
Personal info: Headshot photo, name, contact info(phone#, email address), height(cm), weight(kg), address

Professional experience

(Among the contents below, those with no experience are omitted)

Training history

Company experience

Performance history

Choreography

Awards
■ Check your time zone
Timezone converter: https://www.thetimezoneconverter.com/
The above schedule is subject to change by the organizer. In that case, we will inform changes instantly.
■ Inquiries
Dance Planner is the official partner of Quorum Ballet's worldwide online audition.
Feel free to contact us via this email address (info@danceplanner.net) for any inquiries.
Communication in English/Chinese/Korean is available.
■ Dance Planner's other events

2021' Asia Dance audition and Korea International Contemporary Dance Competition
The stepping stone for your professional career!
Application for ADA will start in August: https://asiadanceaudition.com/adac